About movies and navigating the sLowlife website:
The navigation links are at the bottom of each page. If they are not visible on your screen, scroll to the bottom of each page to navigate.
The movies embedded in this site show short clips of representative movies that are part of the sLowlife traveling exhibit.
The movies are in the QuickTime format, so you will need the QuickTime plug-in for your browser. If you are not able to view the test movies you will need to install the QuickTime plug-in and configure your browser to use it. There are sounds that will play when viewing the site with most web browsers. However, the sounds will not play with Safari on devices like an iPad or iPhone.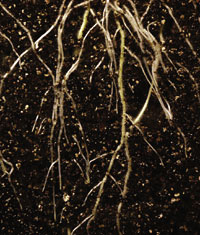 mung bean roots, Roger Hangarter